"Can I see a list of foreclosures, please?"
I was talking to a friend with close contacts in the real estate industry. He said right now, people walk into real estate agencies with only one thing on their minds: buying foreclosures.
Steve Sjuggerud and I follow a theory about broken bubbles in financial markets. Legendary analyst Bob Farrell called it the "
guillotine and sandpaper
." According to the theory, asset bubbles deflate in two stages...
First, prices collapse in a massive and sudden change of sentiment from greed to fear. This is the guillotine stage. Then, prices stagnate for many years, frustrating both bulls and bears. This is the sandpaper stage. The sandpaper stage ends when the last bullish investor throws in the towel, and no one believes the market will ever rise again.
With so many people interested in buying cheap foreclosures, there are still many real estate bulls out there. We're nowhere near the end of the bear market in real estate.
For starters, May 2010 was the worst month for new home sales in America since records began in 1963.
Every month, the Commerce Department counts the number of new homes sold during the month. In April, for example, it counted 42,000 new single-family home sales. That's an annual rate of 504,000... and a 15% increase over March levels.
The Commerce Department reported its most recent tallies last Wednesday. In May, it counted only 25,000 new home sales around the country. In addition, the Commerce Department revised its sales numbers for April down to 37,000... and revised March's sales numbers down by 4,000 to 32,000 after people backed out of their agreements.
The Commerce Department said the average sales price for these new homes was $200,900... a new seven-year low. That's down 10% from a year ago, and 22% from the all-time high in June 2006.
These shocking declines in real estate sales show the government's tax credit artificially spiked activity in March and April. Now that the tax credit has expired, no one's buying houses. The Commerce Department also said the national inventory of new houses for sale hit a new 11-month high in May.
Meanwhile, even though mortgage rates are at 50-year lows, no one wants to borrow mortgage money anymore. Thirty-year fixed mortgage rates hit 4.69% last week, yet applications for mortgages fell in five of the last six weeks, and are now running at low levels last seen in 1997.
What should you make of May's terrible real estate data?
It's simple... real estate has moved from the guillotine stage into the sandpaper stage. The worst of the price declines are behind us, but we're still in a bear market.
This is bad news for investors who own stock in homebuilders, REITs, and home improvement warehouses like Home Depot. I expect these investments will keep falling as the real estate bear market sandpapers these investors to death. Check out this chart of Home Depot. It's one of the ugliest charts on the NYSE…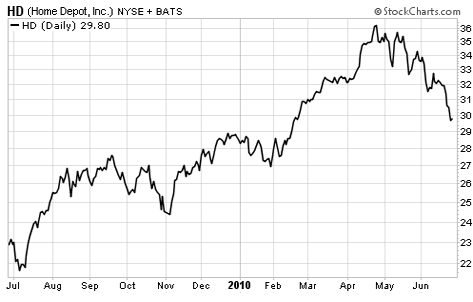 On the other hand, this is great news if you're looking to buy your dream house. Mortgage rates are the lowest they've been in 50 years, house prices are at seven-year lows, and there's a huge selection of real estate for sale. Plus, it's a buyers' market. You have bargaining power over the seller. Name your price and wait patiently for the seller to come to you. Chances are, there's no other interest in his property.
Just remember the guillotine and the sandpaper. We're in a bear market and it's probably got several years to run. You'll know it'll be safe to invest in REITs and homebuilders when everyone has lost interest in real estate investing... even the foreclosure vultures.
For now, enjoy living in your dream house… But don't expect it to soar in value any time soon.
Good investing,
Tom