The economy is moving back into recession...
John Hussman, the highly respected manager of Hussman Funds, has built a recession warning system from four financial indicators. He calls this system his "Recession Warning Composite."
Over the last 50 years, Hussman's warning system has a perfect record of predicting recessions. It's never flashed a faulty signal... and it's never failed to flash before a recession.
Right now, Hussman's indicator is NOT flashing recession... but it's on the verge of giving the signal. It'll likely flash in the next few weeks.
"The U.S. economy is most probably either in, or immediately entering, a second phase of contraction," Hussman concludes. (You can read Hussman's commentaries
here
.)
From my desk, it looks like a combination of the largest government stimulus in history, businesses restocking their inventories, and millions of homeowners getting to live rent-free while their homes are in foreclosure caused a brief 18-month relapse from the recession that started in 2007. Now, the government has pulled back its stimulus, businesses are fully stocked, and evicted homeowners have to pay rent again... And the economy is rolling over.
The stock market is anticipating these developments. It's already down 10% from its highs three months ago... and although it bounced back last week, one glance at a long-term chart of the S&P 500 tells you everything you need to know. This market is trending down again: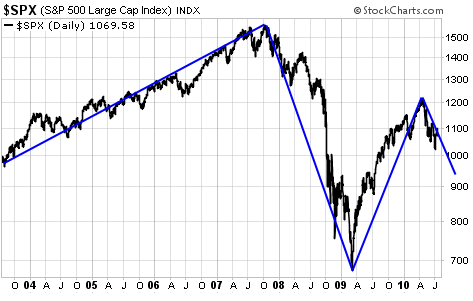 This is bad news for income investors. In a falling stock market, all the best income investments – like real estate investment trusts (REITs) and master limited partnerships (MLPs) – are no-go areas. Worst of all, the Fed won't raise interest rates while the economy is weak. This leaves us with interest-free bank accounts and 1% CDs.
Finding solid income investments in an environment of zero percent interest rates, a recession, and a falling stock market is not possible for most investors. It's simply a terrible time to be an income investor.
What should you do? I recommend you start looking at bonds...
Bonds have two big advantages over stocks. First, they're safer. When you buy a bond, you're lending money to a company. The company has a legal obligation to return your money in full, with interest. With stocks, there's no such guarantee. Your money is in the hands of the market and anything could happen. Second, bonds pay higher income rates than stocks.
The trick to buying bonds in a recession is to only buy bonds issued by rock-solid companies that have no possibility of going broke. I look for companies with huge cash balances and low debt. When a company has more cash than debt, it's not going to go broke.
Then, I look for high yields. In this market, you should be happy anytime you find a "safe" bond paying over 5%.
Where can you buy bonds? Your broker is one option. Most bonds aren't publicly traded, but your broker may have a selection of bonds in inventory for you to choose from. Your broker might also be able to get bonds from other brokers. Call them up and ask to speak to a fixed-income trader.
Buying bonds on the stock market is my favorite option. Most people don't know this, but over 1,000 bonds and other fixed-income investments trade on the stock market, just like regular stocks. They have common ticker symbols, and you can buy and sell them anytime you want through any discount broker.
Right now, in my
12% Letter
portfolio, we have nine of these "stock-market bonds." They're currently yielding an average 7%. And we're guaranteed to get our principal back.
It's hard to find information on "stock market bonds," but one website does a great job.
QuantumOnline
lets you look at complete lists of all the different stock-market-traded fixed-income investments, including preferred stocks, trust preferreds, bonds, and convertible bonds.
You can even put a stock symbol into its quote box and it'll tell you if that company has any related fixed-income securities trading on the stock market. (Look for the "related securities" link.) QuantumOnline is free, but you'll need to register a username and password before you can use it.
If you're tired of collecting 0% or 1% on your cash, I suggest you get started building a portfolio of bonds today.
Good investing,
Tom