You'll sleep soundly at night. Your neighbors won't laugh at you. Your pulse won't budge. But if you make this trade, I guarantee you'll lose money...
One year ago, I opened an essay with the paragraph above. Then I showed you why a certain trade was a foolish proposition, even though it appeared to be a "no brainer."
I was talking about the dangers of betting against the value of United States Treasury bonds. At the time, the government was supplying the market with enormous quantities of bonds. It was the largest bond issuance the world had ever seen. Meanwhile, the economy was recovering and everyone was talking about "green shoots." Finally, the Fed – which had been buying vast quantities of government bonds – had just announced it would no longer support the government bond market.
Here's what I wrote:
In short, it's a slam-dunk bet that interest rates on government debt have to rise. You'd have to be an idiot to bet against the price of U.S. government debt right now. But wait...
These incredibly obvious headlines tell me the world has bet against government debt. The numbers back up my hunch. Right now, large speculators have the biggest net-short position in 30-year bond futures since July 2007... and the second-largest short position of all time.
With the crowd betting so heavily on the short side of the Treasury bond market, we're almost certain to see a large move in the opposite direction.
And that's exactly what happened. In the 12 months since I wrote this essay, the Treasury bond market has shown incredible strength... rising month after month. Here's the chart of the 10-year Treasury note's price. It's risen relentlessly for the last five months, and it's closing in on the all-time highs it set in December 2008.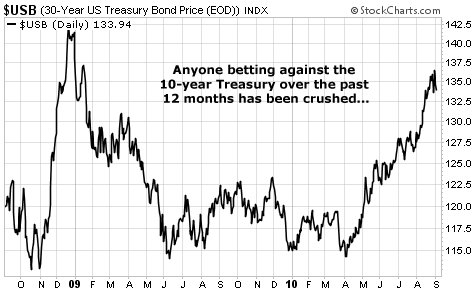 Here's the thing: Since I wrote this essay, sentiment in the government bond markets has completely changed.
Back then, you couldn't find a single reason to own government bonds, and traders had a record short position betting against them.
Now, it's easy to find reasons to buy government bonds... It appears we're heading into recession, the Fed will crank up its government bond purchases again, and we're following
the Japanese path to 1% bond yields
. Meanwhile, traders have their most bullish position in government bonds this year.
In other words, buying government bonds has become the new comfort trap. Buy them if you need comfort... but I guarantee you'll lose money.
My advice: Avoid the Treasury bond market. Prices are too high, traders are too bullish, and the trade feels too comfortable. It's a guaranteed loser.
Instead, if you're looking for a safe place to park your money and earn a stable income, you should consider buying preferred stock. With preferred stock, you can earn 6%-8% yields guaranteed by some of the most dominant, cash-rich companies in the world.
While the government hurtles toward bankruptcy, these cash-rich companies are financial fortresses with absolutely no chance of going broke... and they're paying yields 300% higher than the government is.
I've published several essays recently on preferred stock investing. You can read them
here
and
here
.
Good investing,
Tom