Income investments are on fire right now...
Take the MLP sector as an example. MLP stands for "master limited partnership." It's a special corporate structure used by about 100 small companies – mostly natural gas pipelines. MLPs can make excellent dividend investments. You can usually expect to earn around 9% a year in dividends from them.
But over the last 16 months, Wall Street has introduced six new funds focusing on MLPs. Investors have poured billions into them. Kinder Morgan and Enterprise Products – the two largest MLPs – now yield only 6%.
Emerging market bonds are another popular income investment. Because these "developing" countries often have high inflation rates, weak currencies, and poor credit histories, investors can earn double-digit yields buying emerging market bonds.
But right now, Brazil's 10-year bond yields just 3.59%. Mexico's 10-year yields 3.63%. Columbia's 10-year yields 3.82%.
Other popular income investments are soaring, too. Corporate bonds are trading at world-record low yields. Junk bonds are up 31% since the days before Lehman Brothers went bankrupt and 9% this year. In the mutual fund industry, investors have poured almost $20 billion into bond funds, by far the largest inflow into bonds ever seen.
Underpinning this boom is the most important market of all for income investments: the U.S. Treasury bond market.
The Treasury bond market is the world's largest, most liquid bond market... so it sets interest rates on all other income investments. When interest rates fall in the government bond market, interest rates on all other income investments fall. When Treasury bond interest rates rise, all other interest rates rise, too. (This is why professional bond traders always quote bond yields as a "spread over Treasurys.")
In the last six months, the 10-year Treasury bond's interest rate has collapsed from 4% to 2.5%. That has pushed yields on other income investments lower... and pushed prices through the roof.
As the writer of an income-focused investment advisory, the boom in high-yield investments has put a fire under my portfolio. Of the 30 open positions I added to my portfolio since March 2009, 27 are showing a positive return. Our average return is more than 35% in an average holding time of 13 months.
Here's the thing...
I'm concerned this "income" boom might be nearing an end. First, three major investment houses – Goldman Sachs, PIMCO, and Bank of America – published research this month predicting even lower Treasury bond yields. Whenever you see Wall Street firms all saying the same thing, you know it's already "baked into" the price.
Second, when there's no one left to buy, prices fall. According to a report from the Commodity Futures Trading Commission, in April, speculators held a massive 274,741 contract net-short position in the 10-year Treasury note future. Now, they're holding a net-long position of 62,919 contracts. That's a net swing to the long side of 337,660 contracts. Is there anyone else left to buy?
Finally, the price trend looks to have reversed in the last two weeks. This chart shows TLT, the largest, most liquid exchange-traded Treasury bond fund. This month, the bond market has already lost more than a quarter of the gains it generated in the last six months.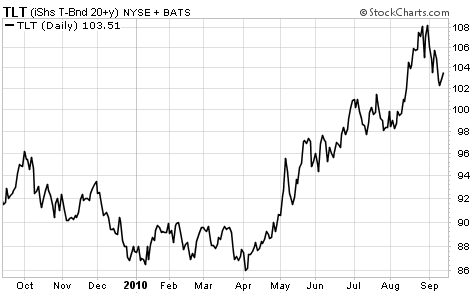 In sum, there's been a big boom in income investments, but the recent reversal in the Treasury bond market may be signaling an end to this boom. MLPs, emerging market debt, and junk bonds are especially vulnerable. They've climbed the farthest, and they'll fall the fastest if the Treasury bond's interest rate keeps rising.
If you own investments in any of these sectors, you should consider tightening your stop losses. Otherwise, avoid them until their yields return to more reasonable levels.
Good investing,
Tom