Last month, I awoke to the following dramatic headline:
U.K. Pound Plunges More Than 6% in Mysterious Flash Crash

It was a good reminder of how important it is to tune out the day-to-day noise of the markets. But it also served as another valuable lesson for investors.
Let me explain...
Entering a
stop loss
with your broker is one of the most dangerous things you can do as an investor.
When you enter a stop, your broker places it in the market. At that point, market makers – the people who match buyers with sellers – can tell exactly where you're willing to sell.
That means market makers can temporarily drop the price and pick off your stop – even if the price immediately rebounds.
Think of it like playing poker with your hand showing. It tells other market participants exactly when you'll "fold." If you don't enter stops in the market, that can't happen.
Plus, intraday prices are much more volatile than closing prices. If you enter your stops in the market, you open yourself up to stopping out on a "flash crash" type of move, just like we saw with the pound in the newspaper headline above.
Here's what the chart of the British pound looked like before, during, and after its intraday plunge...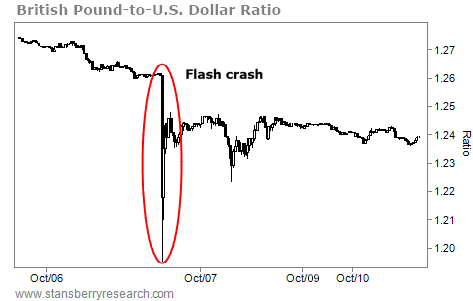 The "volatility quotient" on the pound is about 7%. In layman's terms, that means it's reasonable to expect the pound to move up or down in a range of about 7% over the course of a year or more. Instead, investors saw a 6% correction in the pound in a matter of minutes.
And that isn't the only time a "flash crash" has happened. On May 6, 2010, nearly $1 trillion of market capitalization disappeared from the market and reappeared in the span of just 30 minutes.
Big blue-chip companies crashed for a few minutes. Cigarette giant Philip Morris (PM) fell 9%... iPhone maker Apple (AAPL) fell 22%... and consumer-products behemoth Procter & Gamble (PG) fell an incredible 36%. All three recovered most of their losses by the end of the trading day.
Such "unexplained" events happen in the markets far too often these days.
Earlier this year, semiconductor company Axcelis Technologies (ACLS) opened at $9.64 per share before suddenly dropping 26% to a low of $7.16. It closed the day at $9.36... down less than 3%. You can see the spike lower in the chart below...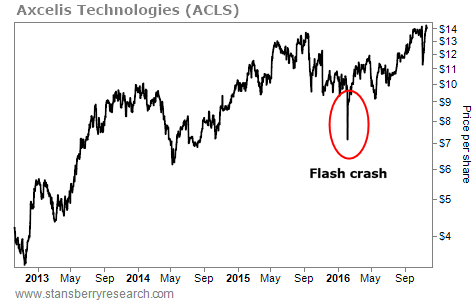 If you had entered a stop loss with your broker, you would have stopped out and missed out on huge gains. The stock recovered almost all of its gains later that day and marched straight higher to $14 a share in the months to come.
That's why my TradeStops software always uses end-of-day closing prices for stop losses. That way, a "flash crash" or a knee-jerk reaction to an earnings announcement won't necessarily kick you out of a winning trade.
Keep your stops out of the market and use end-of-day closing prices as the basis for evaluating your stops. Using these two strategies will help you sleep a lot better at night knowing that the market makers can't pick you off.
Regards,
Dr. Richard Smith