It's August here in Florida, and that means one thing...
It's hurricane season.
The trouble is, most people aren't listening. You see, Florida hasn't suffered a major hurricane since Hurricane Charley in 2004.
Going 13 years without a major hurricane has caused most Floridians to become complacent. It's human nature.
The same goes for investing. The bull market in U.S. stocks is eight years old. It has been the gift that keeps on giving for "buy and hold" investors. But we aren't naïve. Eventually – whether it's next week, next month, or next year – a hurricane will hit the stock market.
Is your portfolio prepared?
The steps you take to protect yourself today could mean the difference between a comfortable nest egg or having to delay retirement for a few years.
Ask yourself the following question: How long can I go before my portfolio fully recovers after a market correction?
In the following chart, you can see how long it took the market to recover its post-crash losses...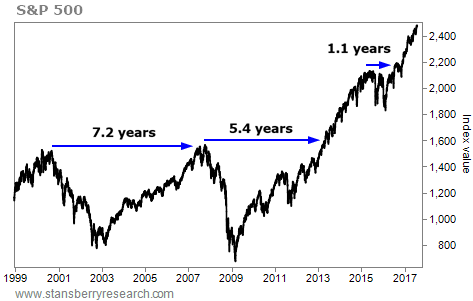 The market peaked in March 2000. By October 2002, the S&P 500 had shed nearly 50% of its value. It took until June 2007 – more than seven years – for the market to recover its losses.
Stocks peaked again in October 2007 and fell an enormous 56% through March 2009. It took until March 2013 – nearly five and a half years – for the S&P 500 to reach its pre-crash levels again.
Even after the market's most recent pullback – from May 2015 to February 2016, when stocks fell 14% – it took nearly 14 months to break even again.
These corrections wiped out the brokerage accounts of millions of people. Many had to postpone their retirements or even unretire altogether. Lots of people got scared out of the market and sold near the lows, missing out on the gains.
My friends at Stansberry Research have been warning readers to prepare for another major market correction. As my friend Steve Sjuggerud has repeated, we're in the "Melt Up" phase. The market is marching to new highs practically every day. People have grown complacent. But eventually, the Melt Up will end and the "Melt Down" phase will be here.
Now more than ever, you must listen to our advice...

I designed my TradeStops software to help investors manage risk. TradeStops can sync with your online brokerage account and tell you EXACTLY when to sell a stock. This helps minimize your losses and takes all of the guesswork and emotion out of investing.
2. Keep your position sizes reasonable.

Don't put your whole portfolio into one or two stocks. No one stock should make up more than 5% or so of your portfolio. That way, if a stock falls 25% tomorrow, you've only lost about 1% of your total portfolio... much easier to stomach than if you have huge position sizes.
3. Use proper asset-allocation guidelines.

Don't invest 100% of your assets into one asset class like U.S. stocks. To prepare for the market's next hurricane, you need to diversify your portfolio. That means owning some "hard assets," like real estate and gold, in addition to stocks and bonds.
TradeStops is designed to help you survive the next market hurricane. Of course, it will also keep you invested in this bull market for as long as possible.
Follow the three steps I outlined above. Your portfolio will thank you.
Good investing,
Richard Smith