So far this year, the S&P 500 has fallen around 7%. European markets are down, too. The Germans are down 9%. And in Spain, they've lost almost 16%. The latest news is, Greece is about to default on its debt and plunge the European Union into a new debt crisis...
It's even worse in commodities. Copper is down 16%, oil is down 10%, and silver is down over 20% from its peak in December.
But there's one commodity that's absolutely soaring right now. It's lumber. Lumber trades on Chicago's commodity exchange. This chart shows spot lumber prices. Lumber rose 50% last year. And so far this year, it's up another 39%...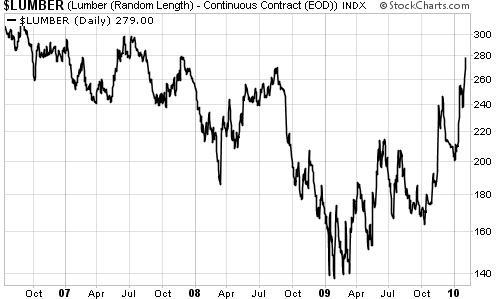 I've said before that lumber is my favorite economic indicator...
Lumber is the raw material of the homebuilding industry. Lumber prices rise when America builds houses and it falls when America stops building houses. So lumber is a great leading indicator of economic expansion or contraction.
You can measure economic activity with other commodities, like oil and copper. But lumber has an advantage over other commodities: No one pays attention to it. Oil and copper prices get distorted by millions of investors and their crazy mood swings. Lumber's price is set entirely by professionals dealing with other professionals. It's a "pure" reflection of economic fundamentals, in other words.
Take the last cycle as an example. If you had been watching lumber prices, you would have had three years advance warning that a collapse was coming in real estate, the stock market, and ultimately the economy. (Lumber prices peaked in May 2004.)
Here's the thing, normally, I'd tell you this big recent spike in lumber prices is a signal the economy is going to start improving and stocks are going to start rising again.
Not this time.
The current spike in lumber is a result of a one-off event, caused by the earthquake in Haiti on January 12 and the sudden massive demand for lumber. This demand shock – coupled with extremely low inventory of wood, logs, and lumbers in the American lumber industry – created a massive spike in the lumber price.
In sum, while lumber is usually a fantastic economic indicator, don't be fooled by the recent activity in the lumber markets. The earthquake in Haiti created a one-time distortion. So I'm not reading anything further into this. I'm advising my paying subscribers to maintain a maximum defensive position in their portfolios, and I suggest you do the same.
Good investing,
Tom
P.S. If you want to take advantage of lumber's price spike, I wouldn't do it with lumber producers. As
I explained last week
, most of them are bloated with debt and pension liabilities and will crash if we see a big market correction. A much better, safer play is timberland. In my latest
12% Letter
issue, I told my readers about the best timberland opportunity in North America.
Click here
to learn more...