On November 13, 2008, the Dow Jones logged its fourth-biggest daily gain in the stock market since World War II...
It closed up 6.7%. The highlight of the day was the 12.5% rally in the afternoon that erased a 4% morning decline.
The next day, the market fell 5%, recovered all its losses by midday, and then fell 5% again.
If you believe, as I do, that America has entered a new era of government manipulation, instability, and economic turmoil, then going forward, we should expect to see more days like November 13 and much higher levels of stock-market volatility...
In my last
DailyWealth
column, I ran
a chart of the Volatility Index
(aka the VIX), showing how volatility moves in clear trends lasting six years or more. Here's that long-term chart of the VIX again. This time, I've drawn support and resistance lines based on the action in the last period of turbulence, from 1997 to 2003.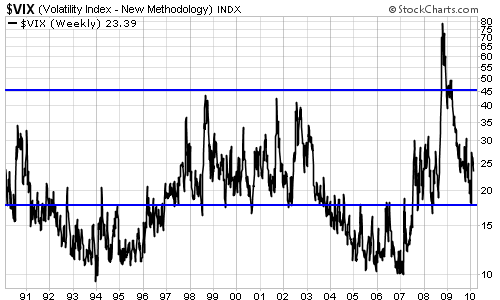 Using this period as our template for the "new era" of turbulence, we should be able to make a fortune by betting on volatility every time the VIX gets near 17.50 and selling every time the VIX rises to 45.
Now look at this one-year chart. As you can see, the VIX touched 17.50 last month... and then soared... just as expected.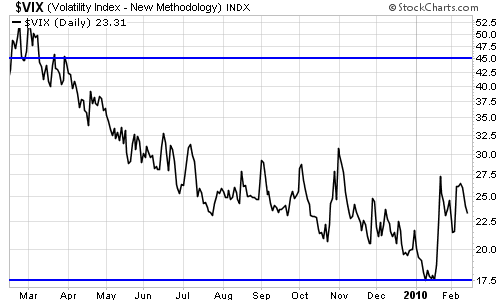 If I'm right about the big trends and our "new era of turbulence," the VIX should quickly return to normal levels near 30... And if we're lucky, we may even get a spike to abnormal levels near 45.
So how do we bet on this?
Well, you can't actually buy volatility. It's not an asset. Most discount brokers offer options on the VIX, but the easiest way to bet on the VIX is through the iPath VIX Short-Term Futures (VXX).
The managers of this fund buy futures contracts on the VIX. Right now, for example, they hold piles of VIX futures contracts that expire in February and March.
Please note, this fund doesn't track the VIX perfectly. That's because of the costs to roll over futures contracts every month and changes in the market's expectations for future volatility. These tracking errors have hurt this fund's performance over the last year. But looking at the prices of future contracts in April and May, this shouldn't be a problem going forward. You may even get the wind at your back.
One more thing: Make sure you use a trailing stop loss and you have an exit strategy for the trade once the VIX rises above 30 again. If I'm right, we could see a comfortable 25% gain from current levels... or a 90% gain if we get another day like I described above.
Good investing,
Tom
P.S. This trade was a recent recommendation in my newsletter,
Penny Trends
. My readers are already up 10%, in just the last 10 days. I'll be tracking this trade closely for my readers, giving them frequent updates and advising them when the time is right to sell. In the meantime, I'll present them with dozens more trading ideas like this one... For details on a trial subscription to
Penny Trends
,
click here
.