"The announcement isn't official yet," said the doorman, "but McDonald's is opening up a restaurant on this corner next month."
Walking around downtown Detroit, I almost felt like I was in Manhattan for a second. There are dozens of skyscrapers, the buildings are beautiful, and you can feel this place used to be extremely prosperous. But that's where the comparison ends.
For one, there are no people in downtown Detroit. It was midday on a Tuesday. Except for a few beggars, a handful of office workers, and some city employees, the place is empty. There is scant traffic. It's quiet. And weirdly enough, it's very green. Trees grow on the roofs of high-rise buildings, ivy grows on their facades, and vacant lots are covered in tall grass. They call them "urban prairies" here, and they attract the coyotes that keep showing up on city streets.
Another thing: Downtown Detroit has hardly any retail. Even the fast food restaurants that infest every other American city are missing. Why? Many of these beautiful skyscrapers are vacant. Windows are boarded up, smashed, or just swinging on their hinges. No office workers. Hence, no fast food customers, either.
But now McDonald's is coming back in. Could it be a buy signal? I think so...
"Leases Now Available," "For Sale By Owner," "Free Utilities" – everywhere you look, there's space available.
I met with a commercial realtor who showed me around town for a couple of hours.
"The Book Building is one to think about," he said. "Rumor is the owner is behind on his utilities and has stopped servicing the elevators."
The Book's tower is 38 stories high. A New York outfit bought it in 2006, but it's given up on the development plans and now wants to unload it.
I couldn't believe what I saw. You can buy entire towers for peanuts. I really liked the 37-story David Stott building, pictured below. It's on the market today for $3.9 million.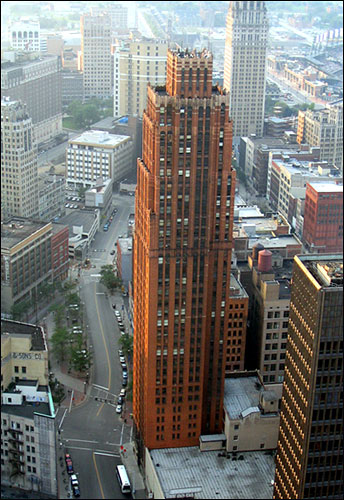 The 19-floor David Whitney Building is for sale, too. So is the 35-story David Broderick Tower. You could probably buy all three "Davids" for less than $10 million.
The reality is, dozens of skyscrapers are for sale in Detroit. In almost every case, their owners are desperate to unload them. And the best part? The city will beg you to get involved and bribe you with incentives.
The Book-Cadillac Hotel is a good example and a symbol of Detroit's downtown renaissance.
The Book-Cadillac is a gorgeous building – a 32-story 1920s Italian Renaissance-style high-rise made of granite and limestone. In 1986, the city shuttered it and abandoned it for 20 years. In 2005, Kimberly-Clark nearly bought it. When it realized how much the refurbishing would cost, it backed out of the deal. The city panicked, knowing if it allowed the Book-Cadillac project to fall back into disrepair, it would scare everyone away again.
Instead, the city gave the property away to an outfit from Ohio. It followed that up by giving the new owners huge tax breaks AND huge subsidies to finish the work. The good news is, condos in the Book-Cadillac have sold out already.
Now consider the 1001 Woodward building, a sleek 25-story high-rise. Developers are converting this building into condos. Brave indeed. It's hard to imagine anyone will buy them, let alone rent them, but that's the sentiment I like.
The high-rise overlooks the Detroit River. From the 20th floor, I watched a 1,000-foot ore carriers chugging along the waterway, pumping out black smoke from its stacks as it pushed its load at what seemed a pretty good clip. It made me think: Detroit can handle huge ships. It has great rail and roadway infrastructure. This place has major advantages from a manufacturing point of view.
I'm going to keep a close eye on 1001 Woodward. It's the litmus test. It's at the very heart of Detroit, right in the center of the action. If they can't sell the condos in 1001 Woodward, then there's no hope for this city.
The opportunity in Detroit makes the hairs on the back of my neck bristle... and I'm drooling over the price tags on some of these skyscrapers, but I must warn you: It's a bit like buying a French chateau. The purchase is the easy part. The rehab and maintenance take the real money.
But if you have the expertise and real money to spend, it's a fire sale here in Detroit.
Good investing,
Tom